Pharmaceutical and medical product producers and distributors face ongoing pressure to increase the production and delivery of their goods while also increasing the effectiveness of their business processes.
They are required to comply with strict quality and safety requirements. To lower the risk of recalls, fines, and licence revocation, drug makers and wholesale distributors must be aware of every aspect of their business operations.
Companies are introducing automated warehouse systems that give real-time quality, inventory management, and other vital data to boost operational efficiencies, safety, and drive down costs in order to manage operational details and meet tight industry criteria.
Top Industries Inc. is a well-known specialist company that can design suitable material handling equipment like a pallet inverter suitable for such kinds of industries.
Problems faced by the pharmaceutical industry
The pharmaceutical industry is currently facing several challenges, and businesses must adapt if they wish to stay competitive in this market.
These difficulties include a lack of qualified staff, a lack of automated equipment required, and difficulties adhering to established cleanliness standards. The pharmaceutical business is now dealing with the following issues:
Sanitation
Product safety
Labour and productivity
Efficiency
What kind of material handling equipment needed?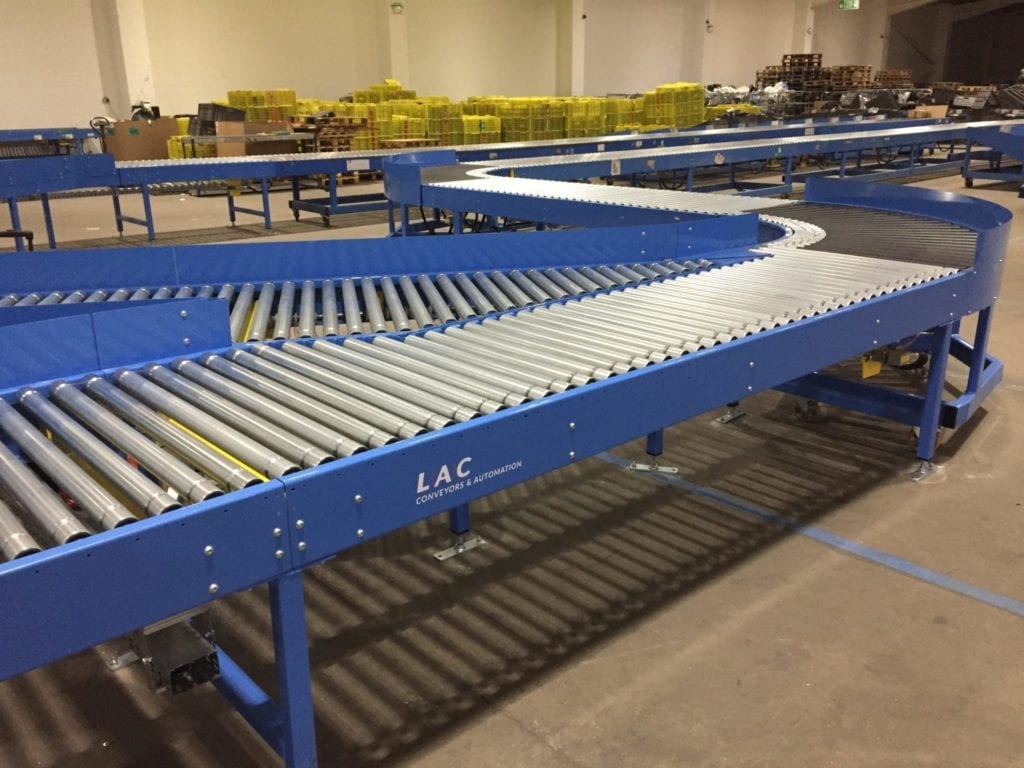 The following are a few different types of conveyors that are used in pharmaceutical industries.
1. Pharmaceutical belt conveyor
Belt conveyors use pulley and can transport any pharmaceutical products easily and quickly too. Since it quite flexible and also easy to use, hence are quite popular too.
By configuring according to warehouse, you can reduce labour cost significantly and will work efficiently too.
2. Flexible/extendable conveyor
If any versatility is required then a conveyor with adjustable speed is fine as it is easy to install, cost effective and also quick to lead/unload trucks.
3. Line shaft conveyor
This is another conveyor that helps transport various products very efficiently. It uses a line shaft that is connected with drive spools. This runs along the length of the conveyor.
Whenever the line shaft will be rotated, spools will turn your urethane bands available on the rollers to spin.
4. Heavy-duty roller conveyor
To automate order fulfilment, you will need this type of conveyor. It can improve pick efficiency as well as quality control so that the processing time is lowered as compared to human-driven decision-making.
5. Vertical conveyor
This type of conveyor can transport safely and quickly any products between several levels. This conveyor can be easily configured for any kind of space constraint.
A few plus points of this type of conveyor are:
Needs lower maintenance
Vibration free
No noise is generated
You can also use this conveyor for both lifting and lowering of the products.
6. Sortation conveyor
This is another important conveyor type that can sort various products to facilitate the throughput. If you want to introduce any kind of logic for the sorting of products then you can add or remove as per your need and wish.
To keep yourself posted with the latest happenings in Top Industries, here is Linkedin profile where you can get connected.